The Portable Tennis Score Keeper is a must-have accessory for any tennis enthusiast. With its compact size and easy installation, it is the perfect tool for keeping track of the score during matches and competitions. Simply push it over the net header and it's ready to go.
The scorekeeper features numbers 0 to 9, making it easy to read from a distance. Its tennis ball inspired design adds a fun touch to the game and ensures that everyone can easily see who is winning. Whether you're playing indoors or outdoors, this score keeper is suitable for net attachment and can be used in schools, clubs, or for personal use.
One of the standout features of this scorekeeper is its durability. Made with a patented stainless steel wire holder, it is built to last and can be used over and over again. You can confidently take it with you as part of your tennis kit, knowing that it will withstand the demands of the game.
Say goodbye to messy scorecards and the risk of losing track of the score. With the Portable Tennis Score Keeper, you can focus on playing your best game while effortlessly keeping score. It's a must-have accessory for any tennis player, ensuring fair play and accurate scorekeeping every time.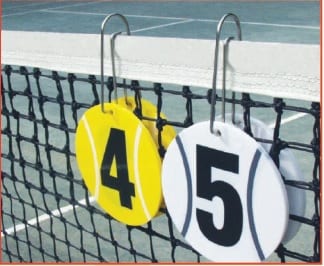 Portable Tennis Score Keeper