The TIBHAR Smash Scoring Machine is a must-have for any table tennis enthusiast. This sleek and sturdy scoring machine is designed to make keeping track of scores during a match a breeze. Whether you're playing a casual game with friends or a competitive tournament, this scoring machine will ensure accuracy and efficiency.
One of the standout features of the TIBHAR Smash Scoring Machine is its easy operation. The large and clear dials allow for quick and hassle-free score updates, making it perfect even for beginners. Its user-friendly design ensures that you can stay focused on your game without any distractions.
Not only is this scoring machine efficient, but it is also built to last. The rigid hinged plastic design ensures durability and stability during use. Additionally, this design allows for easy folding and safer storage, making it convenient and space-saving.
Whether you're a professional player, a passionate hobbyist, or a recreational player, the TIBHAR Smash Scoring Machine is an essential tool that will enhance your table tennis experience. Its easy operation, sturdy construction, and convenient storage make it a valuable addition to any table tennis setup. Invest in the TIBHAR Smash Scoring Machine and elevate your game to the next level.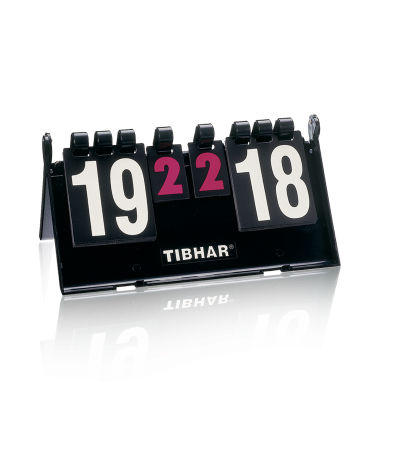 TIBHAR SMASH SCORING MACHINE