The Halloween Sherbet Straws are a perfect treat to make your Halloween party extra special. This pack of 50 straws ensures that there are plenty to go around and provide a fun twist to your Halloween celebrations. Each straw is filled with delicious, tangy sherbet that will excite your taste buds and bring a burst of flavor. It's a spooky delight that both kids and adults will enjoy.
Made with high-quality ingredients, these sherbet straws are not only tasty but also safe to consume. Their vibrant colors and unique packaging make them a great addition to any Halloween-themed party or gathering. Each straw is individually wrapped, ensuring freshness and convenience. Whether you're handing them out as trick-or-treat treats or using them as party favors, these sherbet straws are sure to be a hit.
At just £1.11 per 100g, this pack of 50 sherbet straws offers excellent value for money. You can indulge in a delicious treat without breaking the bank. With their Halloween-themed design and exciting sherbet flavor, these straws are a must-have for anyone looking to add a fun and tasty element to their Halloween festivities. So, grab a pack of the Halloween Sherbet Straws and get ready to have a spooktacular time!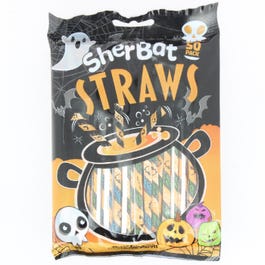 Halloween Sherbet Straws, 90g (Pack of 50)