Introducing Grippy Green Football Grip Socks
Our Grippy Green Football Grip Socks are the newest addition to your kit bag. Designed with performance in mind, these socks are a game-changer for any football player. Whether you wear them alone during training or with your football kit, our grip socks will help you take your game to the next level.
Alongside our iconic Grippy Green Football Grip Socks, we also offer black and white options. But don't worry, more colors are coming soon to match your team's kit and your personal style.
The Power of Grip
When it comes to football, every advantage counts. That's why grip socks have become a must-have for players of all levels. Our non-slip green football socks will help you get to grips with your performance, giving you that crucial edge over your opponents.
Over the past two seasons, the popularity of football grip socks has soared, and for good reason. Their impact on running performance is often underestimated, but the benefits are undeniable.
Unleash Your Full Potential
By wearing our Grippy Green Football Grip Socks, you'll experience a range of benefits:
Improve sprint speed: The enhanced grip allows for better traction, enabling you to accelerate faster on the pitch.
More efficient changes of direction: With improved grip, you can make quick and precise movements, leaving your opponents in the dust.
Better ball control and technique: The grip socks provide additional friction between your feet and the ball, giving you greater control over your passes, shots, and dribbles.
Reduced risk of ankle, knee, and hip injuries: The added stability and support from our grip socks minimize the chances of common football injuries.
Protection from blisters and foot discomfort: The high-quality materials used in our grip socks will shield your feet from blisters and discomfort, allowing you to focus solely on your performance.
Take Advantage of Our Special Offer
For a limited time, you can buy 3 pairs of our Grippy Green Football Grip Socks for just £20! Simply add 3 pairs to your basket, and the discount will be automatically applied.
If you're serious about improving your football game, don't miss out on this incredible offer. With our Grippy Green Football Grip Socks, you'll have the confidence and control needed to dominate the pitch. Upgrade your performance today!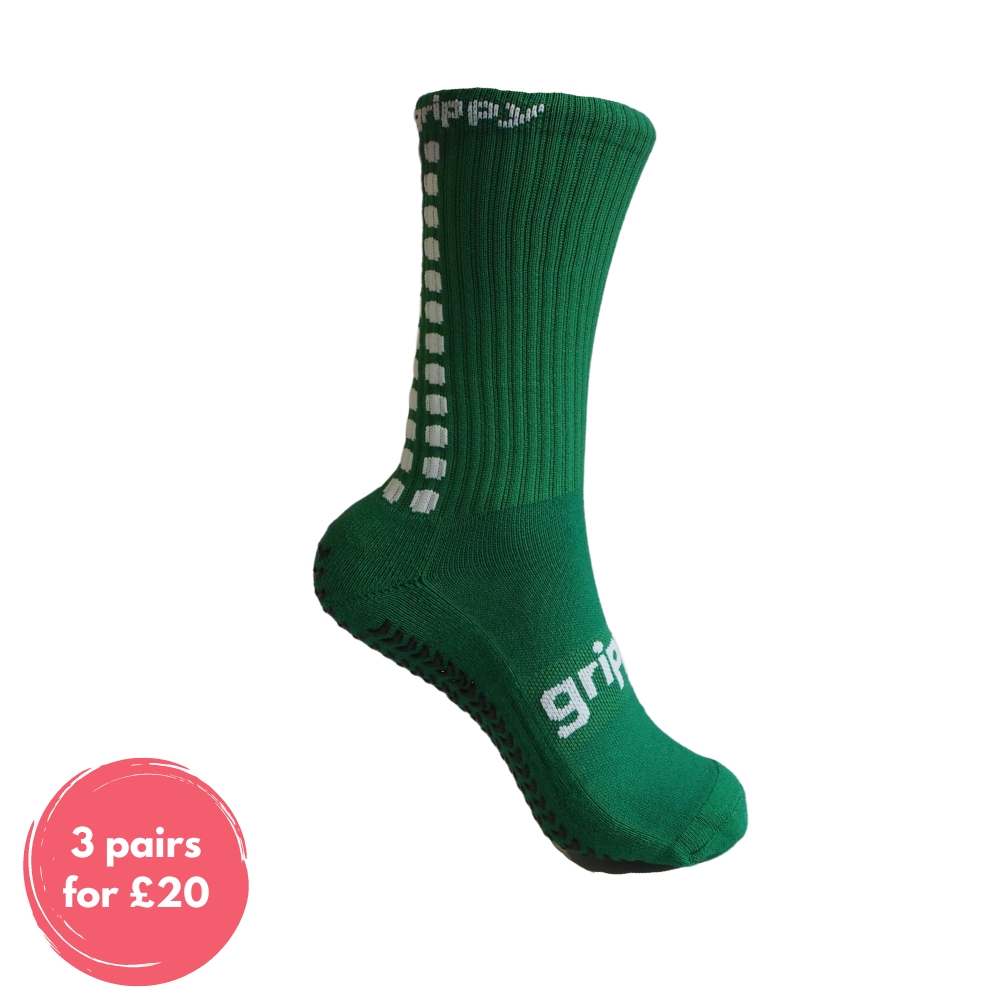 Grippy Green Football Grip Socks