This Shire Timber Apex Large Sark Kennel Honey Brown is the perfect outdoor shelter for your beloved pet. With its durable construction and attractive design, this kennel provides a cozy and comfortable space for your furry friend.
The kennel is made from high-quality, kiln dried tongue & groove walls. This construction ensures strength and stability, making it resistant to harsh weather conditions. It is built to withstand the test of time, providing long-lasting protection for your pet.
The honey brown color adds a touch of elegance to your backyard, blending seamlessly with your outdoor décor. The apex roof design allows for efficient water drainage, preventing any leaks or water damage inside the kennel. The large size of 4 x 2 ft provides ample space for your pet to stretch out and relax.
With its easy assembly process, you can quickly set up this kennel and have it ready for your pet in no time. The tongue & groove walls fit together snugly, creating a sturdy and secure structure. The raised floor design keeps your pet off the ground, providing insulation and protection against dampness.
Whether you have a small or large dog, this Shire Timber Apex Large Sark Kennel Honey Brown is the ideal choice for a stylish and functional outdoor shelter. Give your pet the comfort and protection they deserve with this top-quality kennel.
Order yours today and provide your furry friend with a safe and cozy home in your backyard.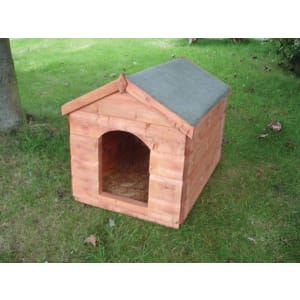 Shire Timber Apex Large Sark Kennel Honey Brown – 4 x 2 ft