Introducing the CA&T Seek & Scratch Senior, the ultimate interactive toy for your senior cat! Made from recyclable materials, this game provides hours of entertainment and mental stimulation for your furry friend.
The Seek & Scratch Senior features multiple access holes on the top where your cat can freely paw at the rolling balls inside. This unique design allows your cat to engage in their natural instinct to hunt and play, keeping them active and entertained.
Not only is this game fun, but it also provides a scratching solution for your cat. With three scratch pads on top, your cat can fulfill their scratching needs while enjoying the game.
To make the game even more enticing, each Seek & Scratch Senior comes with a sachet of catnip. This irresistible herb is sure to captivate your cat's attention and encourage playtime.
What sets this game apart is its commitment to sustainability. Made from recyclable materials, you can feel good about your purchase knowing that you are helping reduce waste.
Overall, the CA&T Seek & Scratch Senior is the perfect combination of entertainment, scratching, and environmental responsibility. Give your senior cat the gift of play with this interactive and eco-friendly toy.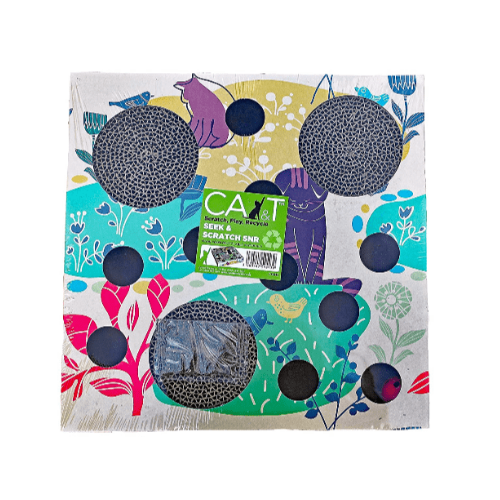 CA&T Seek & Scratch Senior