Introducing the Large Grey Country Kitchen Chalkboard Blackboard Message Board
Are you tired of the chaos and confusion in your kitchen? Do you find it hard to keep track of grocery lists, important notes, and meal plans? We have the perfect solution for you! Introducing our Large Grey Country Kitchen Chalkboard Blackboard Message Board.
This versatile blackboard is designed to be mounted on the wall, making it a convenient and practical addition to any kitchen, hallway, or any other area where people need to know stuff. Say goodbye to sticky notes and loose papers scattered around your kitchen, and hello to an organized and stylish solution.
The blackboard is housed in a beautiful wood frame, giving it a rustic farmhouse look that will enhance the aesthetics of your space. The frame is carefully crafted to perfectly complement any kitchen decor, adding a touch of elegance to your walls.
Our blackboard features printed graphics, adding a unique and charming element to its design. These graphics not only make the blackboard visually appealing but also serve as a helpful guide for organizing your messages and notes.
Includes a convenient chalk holder ledge, allowing you to keep your chalk handy at all times. No more searching through drawers or cabinets for your writing utensils. Please note that chalk is not included with the product, but it is readily available in most arts and crafts stores.
To make installation a breeze, the blackboard comes with two brackets on the back for easy wall mounting. Simply secure the brackets to the wall, hang the blackboard, and it's ready to use in no time. The durable construction ensures that the blackboard stays securely in place, even with daily use.
The dimensions of the blackboard are H:55cm x W:35cm x D:3cm, making it large enough to accommodate all your important messages, yet compact enough to fit into any space. Whether you need to jot down a shopping list, leave a reminder for your family members, or plan out your weekly menu, this blackboard has you covered.
Bring order and style to your kitchen with our Large Grey Country Kitchen Chalkboard Blackboard Message Board. Say goodbye to the mess and chaos, and embrace the convenience and elegance of our blackboard. Get yours today and experience the benefits of an organized and visually appealing space.
What Are Blackboard Boards?
Blackboard boards have been a fundamental educational tool for centuries. They are known for their robust simplicity and their ability to facilitate teaching in classrooms around the world. Despite the advent of technology and the introduction of digital smart boards, traditional blackboards remain an iconic symbol of learning.
The Evolution of Blackboards
Origins and Materials
Blackboards began as literal boards painted black. The earliest blackboards were made from slate, which is a type of metamorphic rock. Slate was used because of its dark, durable nature, which allowed for repeated writing and erasing without damaging the surface. The black background provided a strong contrast to the white or light-colored chalk, making the writing visible to an entire classroom.
Transition from Slate to Modern Blackboards
As the production of slate became more costly and less environmentally friendly, manufacturers began to look for alternatives. This led to the development of steel boards coated with porcelain enamel, which were lighter and less fragile than slate. These modern blackboards could be much larger and were easier to produce and distribute.
The Structure of Blackboards
Surface and Composition
Modern blackboard surfaces are made from a variety of materials. Some are still made from natural slate, but more commonly, they are made from the porcelain enamel painted over a substrate of MDF (medium-density fiberboard) or a similar material. This surface is designed to be non-porous to prevent the absorption of chalk and to allow for easy erasing.
Frames and Accessories
The frame of a blackboard is usually made of wood or aluminum. It provides structural support and often includes a tray for holding chalk and erasers. Some blackboards are also magnetic, allowing teachers to use magnets for attaching posters or other visual aids to enhance their lessons.
The Functionality of Blackboards
Educational Uses
Blackboards are a staple in education due to their versatility. They can be used for writing notes, drawing diagrams, and illustrating concepts. Their large size makes it easy for students to see from anywhere in the classroom, promoting a collective learning experience.
Interactive Learning
One of the unique benefits of blackboards is their facilitation of interactive learning. Students can come up to the board to solve problems, write sentences, or draw maps. This interaction engages students and can improve memory retention.
Versatility Across Subjects
Whether it's a complex mathematical formula, a timeline of historical events, or a list of vocabulary words, blackboards serve all academic disciplines. They are particularly useful for subjects that require visual aids, like geometry, art, or physics.
Blackboards vs. Whiteboards
Contrast and Visibility
The high contrast between the dark background of a blackboard and the light color of chalk is easier on the eyes for some people, reducing glare and reflection compared to whiteboards.
Writing Experience
Many educators prefer the tactile feedback of chalk on a blackboard, which can be less jarring than the squeaky markers on whiteboards. Chalk also allows for nuanced control over the thickness and texture of the writing.
Dust and Allergies
One of the downsides of blackboards is the chalk dust, which can be a problem for people with allergies or respiratory issues. In contrast, whiteboards produce no dust but do require the use of markers, which can emit odors that some find unpleasant or problematic.
Maintenance of Blackboards
Cleaning
Regular cleaning of blackboards is essential to maintain their appearance and functionality. Erasing after each use, followed by a deeper clean with a damp cloth periodically, can help to prevent chalk build-up and "ghosting" from previous writing.
Longevity
Blackboards can last many years if they are properly maintained. The slate or porcelain surfaces are durable and resistant to scratches, meaning they can withstand the wear and tear of daily classroom use.
The Future of Blackboards
Technological Advancements
With the rise of digital technology in the classroom, such as interactive whiteboards and projectors, the traditional blackboard has faced competition. However, the simplicity and reliability of blackboards ensure that they still have a place in many educational settings.
Sustainability and Environmental Impact
As we become more conscious of our environmental impact, blackboards have an advantage over digital alternatives. They do not require electricity, have a long lifespan, and are made from natural or recyclable materials, making them a sustainable choice for schools.
Conclusion
Blackboard boards may seem like a relic of the past, but they continue to play a vital role in education. Their simplicity, effectiveness, and durability make them an irreplaceable tool in the collective learning experience. As we embrace technology in education, it's important to recognize the value of traditional tools like the blackboard. They encourage a hands-on approach to learning, foster engagement, and offer an accessible platform for teachers and students to share knowledge. Whether used in conjunction with digital devices or standing alone in a classroom, blackboards are a testament to the enduring power of simple, effective design in educational tools.
34 reviews for
Large Grey Country Kitchen Chalkboard Blackboard Message Board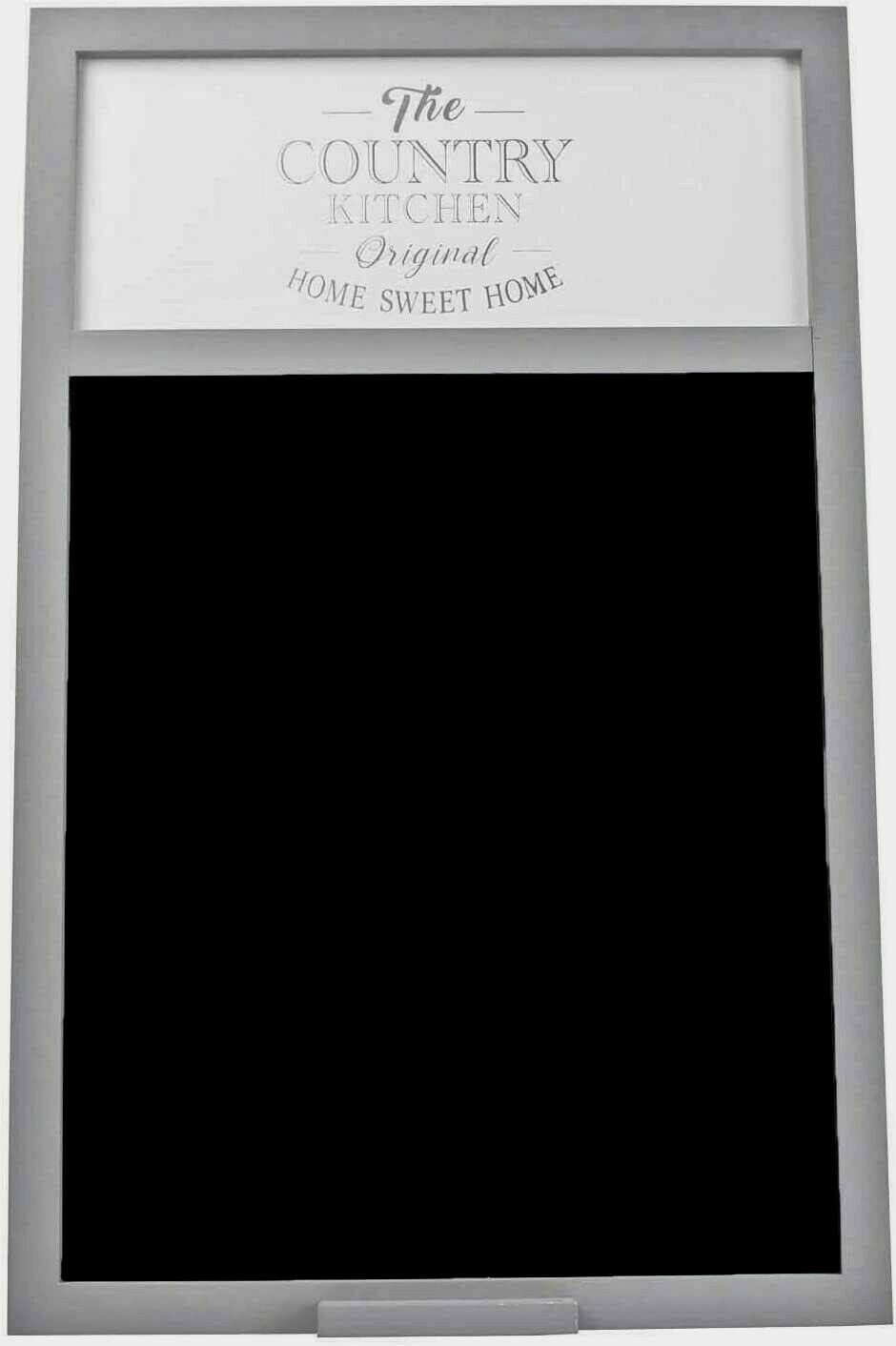 Large Grey Country Kitchen Chalkboard Blackboard Message Board