Food Preparation Allergen Warning Labels
Our Food Preparation Allergen Warning Labels are an essential tool for any food establishment to ensure the safety and well-being of their customers. With 500 labels per roll, this product is designed to provide convenience and efficiency in food preparation processes.
Food allergies affect millions of people around the world, and it is crucial for food service providers to clearly indicate the presence of allergens in their products. These labels serve as a visible reminder for staff to take extra precautions while preparing meals, preventing cross-contamination and potential allergic reactions.
The Food Preparation Allergen Warning Labels are highly visible, ensuring that staff members can easily identify allergens present in various ingredients or dishes. Each label is clearly printed with the name of the allergen, making it easy for both staff and customers to quickly recognize any potential allergens in the food.
These labels are not only essential for allergy awareness but also demonstrate a commitment to customer safety and satisfaction. By clearly labeling allergens, food establishments can build trust with their customers and show that they prioritize their well-being. This can lead to increased customer loyalty and positive word-of-mouth recommendations.
Our Food Preparation Allergen Warning Labels are versatile and can be used in a variety of food service settings, including restaurants, catering companies, cafeterias, and food production facilities. The roll format with 500 labels ensures that you always have an ample supply, reducing the need for frequent reordering and saving you time and money in the long run.
When it comes to food allergies, there is no room for error. Ensure the safety of your customers and the reputation of your establishment with our Food Preparation Allergen Warning Labels. Order your roll today and make allergy awareness a top priority in your food service business!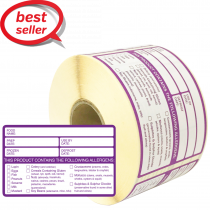 Food Preparation Allergen Warning Labels (500 labels per roll)