Introducing the Blackboard / Kitchen Message Board
Are you tired of constantly misplacing your shopping lists or sticky notes? Look no further than our convenient and stylish Blackboard / Kitchen Message Board! This handy blackboard is mounted on sturdy plywood and comes in two sizes: A5 and A4. Whether you need a compact board for quick messages or a larger one for comprehensive lists, we have you covered.
Features and Benefits
Our Blackboard / Kitchen Message Board is designed with practicality and aesthetics in mind. It comes with a white chalk pen and a sleek silver pen holder, giving it a modern and sophisticated look. The pen holder can be easily positioned for left or right-handed users, ensuring maximum comfort and ease of use.
The blackboard can be effortlessly fixed to your refrigerator, cupboard, or any smooth surface using the provided Velcro pads. This ensures that it stays securely in place, allowing you to conveniently access it whenever you need to jot down an important note or reminder.
Versatile Usage
Whether you want to leave messages for your family members, write down important phone numbers, or create shopping lists, our Blackboard / Kitchen Message Board is the perfect tool. It provides a neat and visually appealing alternative to notepapers that easily get misplaced. You can even take a quick photo of your shopping list on your smartphone and easily wipe the blackboard clean with a damp cloth, ready to start afresh.
Easy Maintenance
Keeping your blackboard clean is a breeze. Simply wipe it with a damp cloth, and it will be ready for your next set of notes or messages. The durable blackboard laminate ensures that it stands the test of time, allowing for multiple uses without losing its charm or functionality.
More Options Available
In addition to our Blackboard / Kitchen Message Board, we also offer whiteboards in the same stylish design. Check out our storefront to explore our full range of options and find the perfect board to suit your needs.
Thank you for considering our Blackboard / Kitchen Message Board. Say goodbye to misplaced notes and hello to an organized and efficient way of communicating!
Product Dimensions: H 210mm x W 148mm x D 10mm.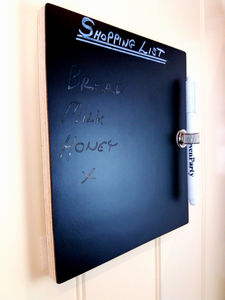 Blackboard / Kitchen Message Board A5 Or A4 Size